Well, hello again friends!
You must be looking at that steak and looking at the title to this post and just shaking your head. That's okay, I'd probably shake my head too. This my friends is a 4.6 ounce rib eye steak.....yes, I didn't make a typo, it's a 4.6 ounce rib eye. (I should have taken a picture of the digital scale weight.) The trick was, it's only cut 1/2 in thick, so it looks really large on the plate, but was actually quite thin. The roasted sweet potato weighs only 3.2 ounces and the chick pea salad is only 3/4 of a cup. The nutritional information for this entire meal is as follows:
Calories-511
Carbs-36
Fat-17
Protein-45
So this entire meal was well within my dietary guidelines. I'm so happy!! I like a good steak once in a while, but was worried about the fat and calories, but once I did my research I found out that I could eat 4 to 5 ounces of steak and not have to worry about it too much. This beef from a local butcher shop, I always try to buy local. The sweet potato was baked and halved with hubby and the recipe for the chick pea salad is at the bottom of this post. It's really easy to make and is better made the night before, or at least a few hours before you plan to eat it.
Right now this blog seems to be more of a food blog, but that will change on a daily basis as soon as I get all the kinks worked out with my new blog page and my new Facebook page. Trying to get everything in sinc is driving me batty.
Chick pea salad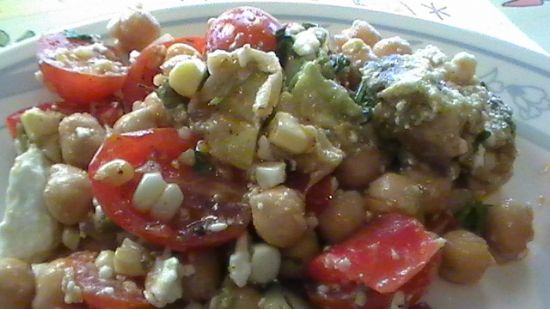 This is a wonderful and simple salad that can stand on it's own or as a side dish with almost any meal.
Ingredients
1 Can of Chick Peas drained and rinsed
1/2 Cup diced red onion
1/2 Cup fresh or frozen corn kernels
1/4 Cup red or green sweet peppers chopped
1 Cup Cherry tomatoes halved
1 whole avocado diced
2 Teaspoons sugar
1 Teaspoon salt
2 Tablespoons olive oil
Juice and Zest from 1 lemon
Hot pepper sauce to taste
Mix all the ingredients, except for the avocado, in a covered dish, you do not need to cook the corn, but can if you like. Refrigerate for at least 2 hours, the longer it sits the better it gets. Remove from the refrigerator when ready to serve and add the avocado. Serve cold or at room temperature.
That's it friends, quick and easy and really good, and good for you here is the nutritional information for this dish.

Nutritional Info

Servings Per Recipe: 6
Amount Per Serving

Calories: 196.0

Total Fat:

9.9 g

Cholesterol:

0.0 mg

Sodium: 416.4 mg
Total Carbs: 23.7 g
Dietary Fiber:

5.6 g

Protein:

6.2 g
Well good friends I hope you get a chance to try this recipe, and you could easily use your favorite bean, kidney beans or black beans would be nice, You can also use what ever veggies you have on hand. Some spinach or other hardy green would have been pretty in this salad. The nice thing about salads is you can do what ever you want, there are no rules. So have some fun and play with your food.......Go ahead, I give you permission.
Until next time good friends have a glorious day.